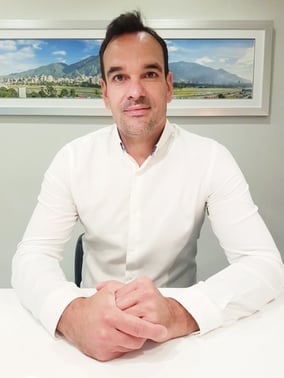 This month we caught up with Luciano Mezzalira, Senior Analyst at Infospectrum's Oxford office, who has been a mainstay of Infospectrum's Americas team since 2006.
'I am Venezuelan with Italian roots', Luciano begins. 'Before I started at Infospectrum, I was working in financial services as an auditor for one of the big four accounting firms, and didn't have any background in shipping - it was a new industry to me.' After completing his master's degree in International Banking and Financial Services in the UK, Luciano quickly turned his auditing skills into a valuable tool for due diligence, credit reporting, and risk management.

'Through the years I have built up a wealth of experience in credit risk in the shipping and commodity sectors', Luciano reveals. Focused on the Latin American market, and spending time in both Colombia and Venezuela, he uses his experience to obtain information from Infospectrum's sources and the companies they're researching. 'It's important to know how to adapt - even within the same sector. It's different when you speak to somebody in Brazil, Mexico, or Chile to here in Europe, for example.'
Luciano emphasises that speaking multiple languages and having a strong cultural awareness helps him to adapt and ask the right questions. 'Sometimes you've only got one chance to obtain the right information - especially if your source is busy or doesn't know you', he adds. Fortunately, Infospectrum is now well-known in the market with plenty of contacts. 'Sometimes you really have to track down the right person and I enjoy that - in some cases they can even become good friends.'
Asking him what he enjoys most about his role, he responds: 'The best thing about Infospectrum is it started as a small group of people, so it feels like a family.' Infospectrum is now a big family, with offices in the Far East/Australia, North America, and elsewhere in Europe. 'We are one big team. We help and collaborate with each other every day in different ways - whether we need help checking references in different languages, exchange information about a company, validate different sources of information, or reach out to discuss specifics of a company, region or industry sector, there is constant interaction with colleagues within and across offices', Luciano adds.
As to the industry he covers? 'My gut feel is that while the dynamism of the ocean shipping sector is likely to remain, we're going through a fairly unprecedented period of external pressures, whether US-China trade war tariffs, the outbreak of African swine fever in China, US sanctions (including Iran and Venezuela), IMO 2020 fuel emission requirements, lack of financing, and flattening demand growth. Over and above that, there is the management of further compliance procedures, requirements for greater transparency, digitalisation, all of which is likely to add costs in both capital and time.

'The industry is expected to implement further compliance procedures, offer more transparency, and invest in new technologies, translating into significant capital expenditure.' - Luciano Mezzalira, Senior Analyst, Infospectrum


'We visit clients all the time to try and understand how we can add value - whether that's by creating new ways of reporting or other activities. We always try to remain open to new ideas', Luciano explains, highlighting Infospectrum's recent launch of a brand new office in Hamburg, as an example of getting closer to key clients and contacts.
When he's not working, Luciano likes watching and playing sports, especially football. He also loves travelling, and on a number of occasions has combined both, including going to the World Cup in South Africa and Brazil, and visiting Milan to watch his team Inter. #Nerazzurri!
If you are interested in discovering how our expertise can support your organisation with due diligence, credit reporting, and risk management, click the button below to get in touch.