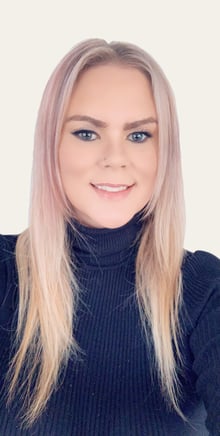 This month, we spoke with Gemma McSweeney, Head of Client Services for Infospectrum's UK offices. She revealed how her career began and why she loves being a part of the Infospectrum team.
'I'm local to Oxford — born and bred', Gemma begins. 'In 1998, I started working for a local shipping consultancy.' She worked there for a year before going travelling to Australia for six months. Upon her return, Gemma joined her former colleagues working at Infospectrum in June 2000.
'I'm the first point of contact for a lot of our established clients', she reveals, having 'built a rapport with many by speaking to them almost daily on the phone over the last 20 years'. On a typical day, Gemma receives orders that come in from clients, raises them on Infospectrum's internal system, and allocates them to the analyst teams so that they can carry out the work. 'That's the main and most important job that I do', she stresses. 'We also have a live chat service on our website. In UK working hours, it's my responsibility to respond to clients if they can't find a report on the database or want to clarify something, and direct them to the right team member for further discussion'.
Infospectrum's truly international approach quickly becomes clear: 'I liaise with Kaixin who does the same role in Singapore — we always have a handover period in the morning, so I can make sure I'm on top of things before she leaves. Then when the Americas team come online, I speak to them about orders and discuss what can be taken on by them.'
Gemma also organises company events including Infospectrum's annual London forum, where she oversees everything from finding the perfect venue and marketing the event, to inviting guests and completing the final touches on the day. She adds 'I travel to Singapore once a year to assist with their forum too, which is thoroughly enjoyable and a great opportunity to catch up with our AsiaPac team.'
Next year's forums in Singapore (July) and London (September) are set to be bigger and better than ever before as Infospectrum looks forward to celebrating its 20th anniversary. 'Our forums have proved very popular with Infospectrum's clients, and it has become an important function within the shipping event calendar', Gemma notes. Apart from the forums, Infospectrum is returning to London on Tuesday 26th February to host an afternoon networking event to mark International Petroleum Week. Gemma emphasises 'this is another great opportunity for our clients to meet with the Infospectrum team and other industry figures. The analyst team are always available to discuss subjects with clients, but having face-to-face opportunities is just as beneficial for us as it is for our guests.'
Gemma's colleagues describe her as 'a key cog in the Infospectrum machine' - and it's easy to see why. 'My priority is ensuring our clients are happy and that orders are raised correctly, particularly if it's a time sensitive request', she explains.
Gemma reveals she 'loves working at Infospectrum because the team are great. I've been working with Will, Panos and a lot of the team for over 20 years, which I think bears testament to the company. Having the opportunity to interact with clients and colleagues constantly makes my role interesting, and no day is ever the same.'
From Gemma and all of the Infospectrum team, we wish you a merry Christmas and a prosperous New Year.
If you are interested in learning more about how Infospectrum's expertise can benefit your organisation, get in touch by clicking the button below.