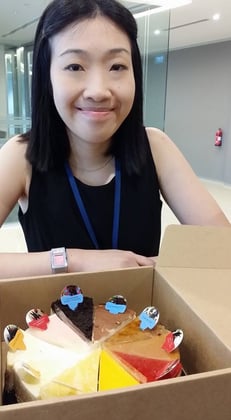 This month we were in conversation with Crystal Chan, Senior Analyst at Infospectrum's Singapore office. She shared what it's like working in shipping along with how the industry has evolved since her career began. Read on to learn more.
Crystal has been a valued member of Infospectrum's team for the past four years now. Prior to this, she began her career as a shipping journalist: 'I worked for a local newspaper in Singapore after university. After five years I joined a shipping publication, and worked there for nearly five years.'
Crystal's role at Infospectrum allowed her to apply the knowledge and skills she'd gained so far and build upon them. 'I covered mainly high-profile shipping groups, but over at Infospectrum, I've actually learnt a lot more about the shipping industry because we also research low profile and obscure charter operators and shipowners', she reveals.
Much like her colleagues, one of Crystal's favourite things about working at Infospectrum is the team, comprised of people with diverse professional backgrounds and capabilities. 'We all complement one another', she claims. The team's collaborative approach is impressive: 'whether it means having contacts in niche trades or locations, or speaking the languages we need in the Asia Pacific region, we can call on each other to help out when needed.'
Crystal also enjoys researching companies across a wide spectrum of industries. 'One day you might be researching a shipowner. The next day you might be researching a bunker trader. Another day you might be researching a large conglomerate with diverse business interests.' As a result, she learns more about the operations of companies operating in different parts of the maritime industry on a daily basis.
We asked Crystal how the industry has changed since her career began. 'Consolidation in the container liner shipping sector has reduced the number of companies in this segment. A decade ago, the players were all saying they valued their individual identities and couldn't imagine consolidation', highlighting how quickly the shipping landscape can change.
We asked Crystal to describe herself in one word and 'detailed' came to mind. 'We have to check reports written by colleagues, so I have to be very detailed and careful in order to ensure we maintain the level of quality and consistency in our reports, also adding value where I can. It's all part of ensuring we maintain the quality we are known for.'
For those considering a career in the industry, she stresses that it's a 'very interesting and important industry because it powers 90% of world trade, and yet remains, to a large extent, completely unreported in mainstream media.'
Networking goes a long way in the shipping industry. 'We get opportunities to attend industry events. Our Singapore forum, for example, allows us to meet many of the clients we undertake research for. It's rewarding to be told our research enabled a client to avoid a hit. We only really get to hear about these things when meeting in person!
Our discussion moved on to the subject of the future, with Crystal looking forward to more technological innovations. 'Right now we're seeing a lot of research into autonomous ships, whereby the seafarers might not be so heavily involved in navigating vessels. Hopefully it might mean that shipping becomes a safer industry. There might be fewer accidents.' She adds, 'perhaps the scope for seafarers' jobs might change, but I don't think the seafarer's role will become obsolete.'
On a typical day at Infospectrum, Crystal researches specific companies according to set deadlines in response to report orders. A crucial aspect of her role involves interviewing key stakeholders to determine more about the business' operations, and cross-checking feedback with Infospectrum's source network, worldwide.
Outside of work, Crystal loves to travel, especially to Japan; 'I love Japanese food and products, and I make a point to have a holiday there every year. It's a very interesting country and each region is different, both in terms of scenery and culture.'
If you are interested in discovering how our expertise can support your organisation with due diligence, credit reporting, and risk management, click the button below to get in touch.