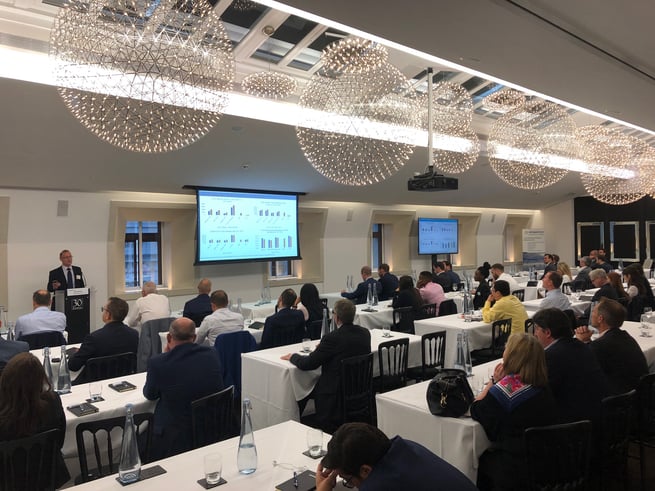 On 9th September 2019, Infospectrum welcomed over 100 guests to its London Counterparty Risk Forum at 30 Euston Square, providing attendees with unique shipping industry insights and the latest trends shaping the sector.

The event was also in celebration of Infospectrum's 20th anniversary. Five guest speakers were invited to the event to speak about the prominent issues the industry is currently facing and to provide guests with unique shipping industry insights. Alongside the guest speakers, one of Infospectrum's senior analysts, Neil Dekker, led a presentation on the top liner operators.



A positive outlook for certain shipping sectors...
In his opening address, Panos Panousis, Managing Director of Infospectrum, welcomed guests and thanked them for their support over the last 20 years. Our first presenter, Stephen Gordon, Managing Director at Clarkson Research Services Ltd, delivered a comprehensive overview of the international trade and world fleet capacity developments that will shape shipping markets in 2020; Steve drew particular attention to gas and cruise market growth plus an encouraging outlook for tankers in 2020 but with the caveat to watch any downgrades to the global economy. Supply side is manageable and shipbuilding capacity circa 40% lower that 10 years ago, with these factors having a positive impact on the quality of tonnage delivered.

...while being aware of potential macro-economic disruption
Professor Nikos Nomikos, Professor of Shipping Finance and Risk Management at CASS Business School, provided our forum with an outlook on the global macro economy. A wide range of topics were covered including risk analysis, trade wars, commodity markets outlook, and digitalisation. One of the continuing key themes throughout the presentation were the causes of uncertainty in the market relating to the ongoing trade war, policy uncertainty worldwide, and expectations of weak economic growth.

Preparing for IMO 2020
Guido Cardullo, Head of Business Development at Fratelli Cosulich SpA, covered the much-debated subject of IMO 2020, fuel availability and compliance. Guido stated his opinion that 5% of vessels will not be compliant with IMO 2020 by the time it is put into effect.
He further discussed the issue of refinery capacity, particularly in key markets such as Singapore, which may see significant changes in how marine fuels are stored and sold (potentially losing market share to refining centres in South Korea and China), and is already experiencing significant variation in the spread between delivered and MOPS pricing due to IMO 2020-related tank cleaning efforts. Guido also highlighted the consequences of oil majors returning to the market, in particular the impact of credit availability for smaller owners, operators, and traders.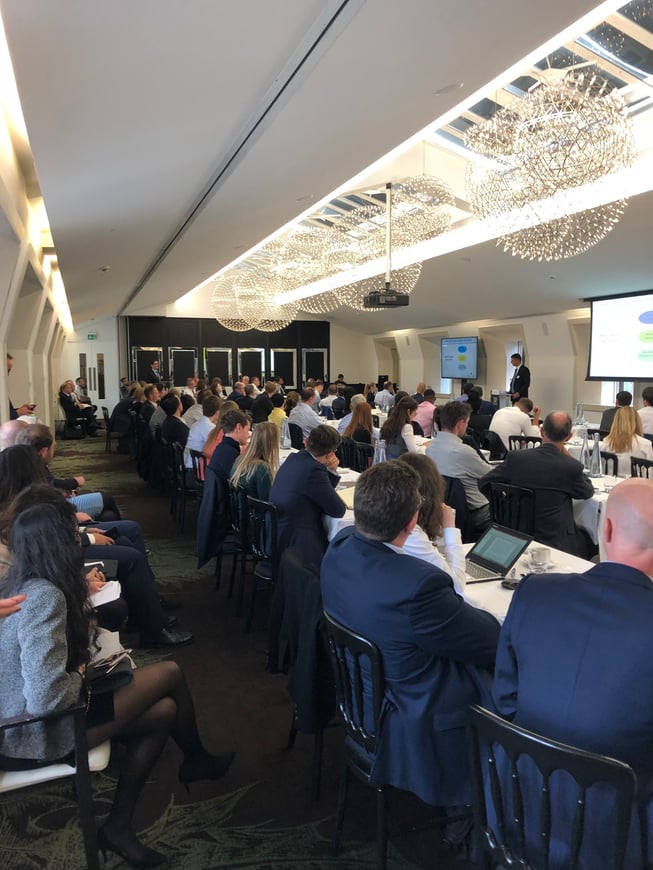 Sanctions and compliance
Following Guido, Mark Church, Director FD & D, The North of England P&I Association Limited, provided an insightful presentation on sanctions. Mark highlighted the complexities of sanctions compliance, as well as the importance of having a policy in place given how many breaches are caused by human error. Such policies include in-depth evaluations of the potential counterparty and cargo, assistance from P&I provider, and contractual protection. Mark also highlighted the downsides of a sanctions breach, with examples of companies entering bankruptcy despite rapidly clearing their name.
The impacts of IFRS 9 on the shipping and energy sectors
Zeshan Adil, Director (Shipping and Transport) at BDO LLP, presented an illuminating technical session on the calculation of a probability weighted measure of expected credit losses under IFRS 9. His process-driven, practical approach — involving historic company data and third-party sourced forward projections — provided an instructive guide to the increased data requirements that managements need to maintain internally, while highlighting the opportunities for third party information providers, and ultimately provided a more nuanced understanding for interpreting financial statements.
The top Liner Operators - Financials and strategy
Finally, we had our own Senior Analyst, Neil Dekker, who delivered a stimulating insight into the top liner operators, describing the liner industry as an 'illogical industry'. He noted that historical individual company decisions to invest in newbuildings had rarely been in tune with overall industry supply/demand dynamics, making it difficult for companies to consistently turn a profit even in a strong market. Neil highlighted the vastly different business models each liner company presents; Maersk still coming out on top, although Hapag-Lloyd is now starting to show the benefits of its more conservative stance towards growth and vessel acquisitions.
Neil further emphasised that IMO 2020 is creating uncertainty in the industry. He posed the question, 'Will the liner operators be able to fully recover the increased cost of low-sulphur fuel from shippers via new bunker surcharge mechanisms?'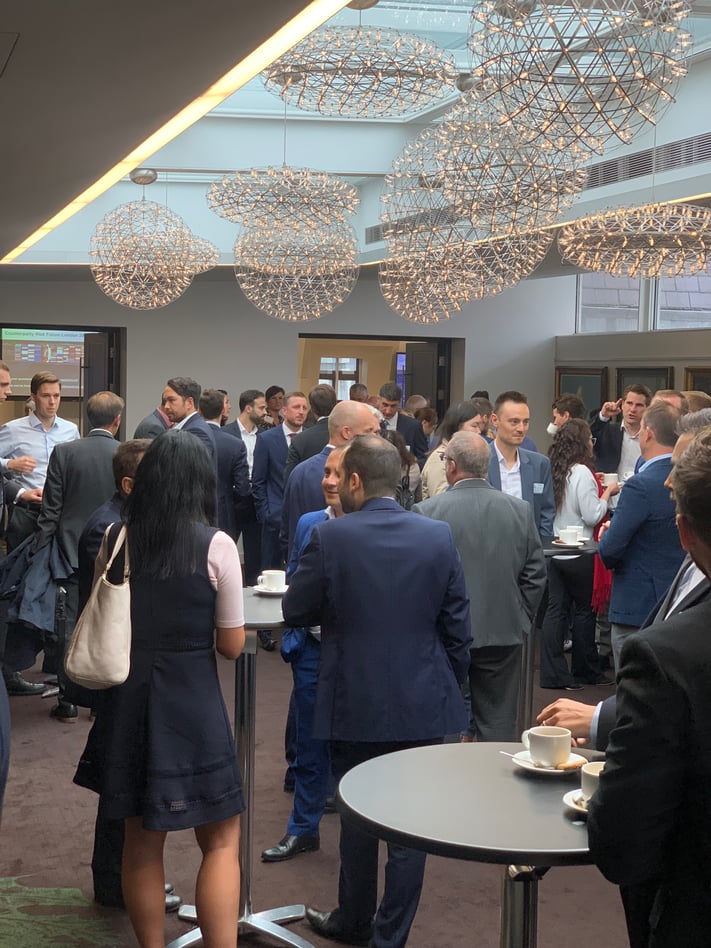 The forum came to a close, with an evening reception to follow. Guests enjoyed cocktails on the rooftop bar of 30 Euston Square, which offered an additional opportunity for networking, along with further discussion of topics covered and a chance to celebrate a fantastic 20 years of Infospectrum.
Keen to discover more in-depth highlights from the day? Click below to download the latest shipping insights from an expert panel.